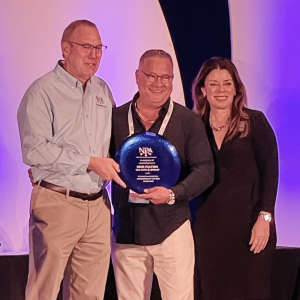 The National Pawnbrokers Association (NPA), the leading industry trade association representing independent pawnbrokers, has named Nick Fulton of USA Pawn the 2023 Pawnbroker of the Year.
This distinguished accolade is a testament to Fulton's commitment to excellence, exceptional service, and contributions to the pawnbroking industry.

The Pawnbroker of the Year award is presented annually by the NPA to recognize an individual who, through their performance, has demonstrated exceptional success in their business and localcommunity and has significantly contributed to the pawn industry during the previous year. Mr. Fulton emerged as the clear winner among a highly competitive field of nominees.

"I am incredibly honored to receive the Pawnbroker of the Year award from the NPA," said Fulton. "This recognition reflects the tireless efforts of our dedicated team and reaffirms my commitment to providing exceptional service and fostering trust within our community and industry. I am grateful to the NPA for this recognition and our community's continued support."

As a member of the NPA since 1993, Mr. Fulton has dedicated countless hours to supporting the association through outreach involvement and government relations support. As Chairman of the Membership Committee, he was named Committee Chair of the Year and awarded the Membership Development Award in 1997. Fulton was also honored with the Pawnbroker Hero of the Year award in 2006 for efforts to help those in need following Hurricane Katrina.

Fulton serves as President of the Mississippi Pawnbrokers Association. In this role, he has set an unmatched standard of proactive legislative advocacy and launched the nation's first online learning portal. USA Pawn has consistently raised the bar in the pawnbroking industry, exemplifying integrity, professionalism, and a customer-centric approach. With over 30 years of experience, the company has built a solid reputation, ensuring customers have a positive and trustworthy experience.

###
About USA Pawn:
USA Pawn is a family-owned pawn business with six locations across Mississippi. The company has built a solid reputation for its exceptional customer service and commitment to community engagement.